---
Skokie Valley Astronomers—Home Page
Welcome!
Skokie Valley Astronomers is a club devoted to amateur astronomy. We meet at 8 PM on the second Friday of every month at the Welcome Center of Edward L. Ryerson Conservation Area (also known as Ryerson Woods) in Deerfield, IL, a part of the Lake County Forest Preserve District.
All of our meetings are open to the public. You're invited!
Click here for a map and directions.
Our meetings usually start with a presentation on some aspect of astronomy, and then we move outside for viewing the sky if the weather permits. Many of our members bring telescopes to each meeting, and they love to let everyone have a look. If you're interested in amateur astronomy, or even if you're just curious, please come to one of our meetings.
Click here to find out if a meeting has been cancelled. The notice will be updated before 3 PM on the day of the meeting.
Ryerson Woods
The Ryerson Woods web site has a detailed map of the park itself. Choose "Trail Map" or "Directions" under "Maps".
Ryerson Woods Welcome Center
21950 N Riverwoods Rd
Deerfield, IL 60015
Longitude: West 87.91556° = 87° 54′ 56″
Latitude: North 42.18194° = 42° 10′ 55″
Altitude: 200 m = 656 ft
Weather for Ryerson Woods from weather.gov: reporting site near 42.18N, 87.92W.
Club Affiliations
The Skokie Valley Astronomers club is a member of The Astronomical League .

The North-Central Region of the Astronomical League (NCRAL) provides a newsletter, Northern Lights. Click on the Newsletter Archive link of the NCRAL Welcome page.
The Skokie Valley Astronomers club is a charter member of the Affiliates Program at the Adler Planetarium . Through this program, the Adler hopes to cultivate strong relationships with local astronomical societies and groups. Adler Affiliates receive museum benefits for their organizations and individual members in exchange for support of Adler priority projects, including membership, volunteers, public astronomical viewing, publicity, and community relations.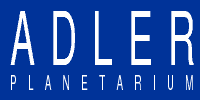 ---
Web site comments, criticisms and complaints:
E-mail: Dale Dellutri
.
Copyright 2005 Dale A. Dellutri